Where My Girls At ?
- - - - - - - - - - - - - - - -
Going places but remaining together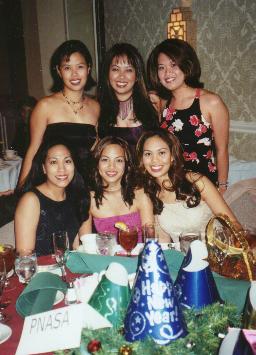 "No, we're not sisters."
T to B;L to R: Anna, Aileen, Joy, Dinah, me, and Pamela
our circle...
remains relatively small and tight knit. In a sense, we are our own little family. We have known each other for over 10 years and some of us all our lives. We attended each others high school graduations, weddings (at least for the ones who are married), and college graduations (for those who have finished).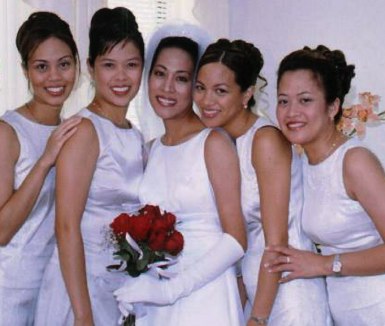 "Moving On Up"
Just one of the weddings we all have attended.
L to R: Pamela, Anna, Dinah, Me, Joy
together...
we are silly and crazy. We can sit at a table and talk for hours about everything and absolutely nothing. We have the habit of sounding like school girls and our favorite saying is, "how old are we again?". We can all be in the same city and we still regularly e-mail each other. Most importantly, we listen, support, and advise each other.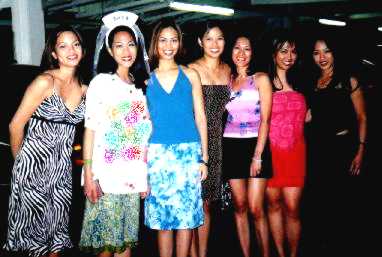 "Girls Night Out"
L to R: Me, Dinah, Pamela, Anna, Myra, Aileen, and Raffi.
We celebrate on the Riverwalk for Dinah's bachelorette party.
reality is...
as the years pass, it is apparent our lives are taking to different directions. With our new families, degrees, jobs, etc., our futures lead us to follow different paths. Some of us are moving cross-country or intend to eventually. However, I'm confident with our friendship, distance won't matter and our bond will continue to stay strong.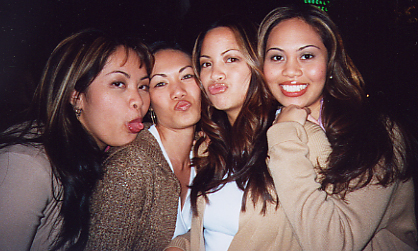 "Mail Order Brides? Yeah Right!!"
L to R: Aileen, Myra, Me and Pamela